| | |
| --- | --- |
| | Science |
Scientific research is the starting point for the development of our products.
Choose from the menus on the left hand side of this page to learn more about the science behind PR Sella and the publications on the fields of research concerned.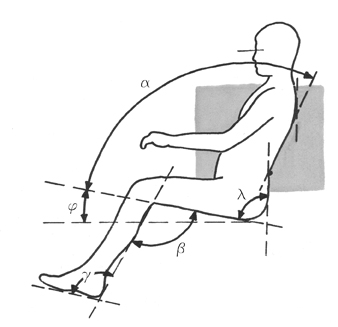 Definition of the angles in the sagittal plane that determine a sitting posture

From: H.A.M. Staarink. Zo zit het! Over zitten, stoelen en rolstoelen. Assen: Van Gorcum. 2007
Soon to appear in English under the title: All there is to know about sitting – sitting behaviour, seats and wheelchairs.